Wild emu at the edge of the New South Wales Outback (TWC).
Gifts of bread
Aboriginal stories credit Captain James Cook with bringing bread to Australia. The stories tell about all of things that the mythical "Cook" brought: clothes, axes, animals, and bread and flour. The stories are told throughout the country. even though few tribes encountered Captain Cook in person. The
Rembarrnga people of Arnhem Land
, where Cook never ventured, tell of the "real" Captain Cook, their ancestor law-man from millions of years ago. When that Captain Cook is killed, the story teller says that people tried to make Captain Cook another way, and many "Captain Cooks" (i.e., white settlers) arrived.
Captain Cook statue in Sydney, Australia (March 4, 2018) (TWC)
Cook's first expedition on the Endeavor in 1770 spent nearly two months near the Great Barrier Reef repairing the ship, which ran aground on the Great Barrier Reef. In Percy Mumbulla's (an Aboriginal living in New South Wales) account,
Cook arrived at an island in Queensland in
a large ship.
*
He gave Mumbulla's ancestors clothes and hard biscuits. After he left, the ancestors threw the gifts into the sea.
[In his journals, Cook confirmed Mumbulla's report, saying that the Aboriginals saw the gifts as things "they had no manner of use for."]
Chloe Grant and Rosie Runaway of Queensland tell a second story of Cook's arrival bearing bread: "Captain
Cook
and his group seemed to stand up out of the sea with the white skin of ancestral spirits, returning to their descendants. Captain
Cook
arrived first offering a pipe and
tobacco
to smoke (which was dismissed as a 'burning thing... stuck in his mouth'), then boiling a billy of tea
(which was dismissed as
scalding
'dirty water'), next baking
flour
on the coals (which was rejected as smelling 'stale' and thrown away untasted), finally boiling
beef
(which smelled well, and tasted okay, once the salty skin was wiped off). Captain
Cook
and group then left, sailing away to the north, leaving Chloe Grant and Rosie Runaway's predecessors "beating the ground with their fists, fearfully sorry to see the spirits of their ancestors depart in this way."
Growing wheat
The English soon returned to Australia in force. In 1788, England now bereft of American colonies to which it could ship criminals, landed a boatload of convicts at Botany Bay. Within a few months of their arrival, the prisoners turned farmers began to grow wheat. It took several years of learning to farm, finding decent soil, and planting new varieties of grain, but by 1799, the colony cultivated 6,000 acres of wheat.
A harvested field in New South Wales, February 2018 (TWC).
As was the case around the world, wheat culture in Australia evolved. New machinery in the early to middle 1800s, and the networks of railroads that were largely in place by the 1880s made wheat farming possible on a large scale. A new wheat variety, "Federation," greatly increased production, similar to t
he introduction of "Turkey Red"
in the US about the same time.
Wheat sheaves, around 1884 - 1917, Sydney, Australia.
Very little of Australia has land suitable for wheat.
The map below
shows the major wheat areas. Farms in these areas produced enough wheat for Australia to become a major supplier of wheat to other parts of the world.
Early Australian farmers trying to clear ground and plant wheat lacked any sort of sophisticated equipment. The first ploughs arrived in 1797. For the decade before that, the convicts and settlers used hoes and spades. The farmable areas along the coasts of the continent were forested, and often hilly. After cutting the trees, farmers hitched teams of oxen to wooden plows. An innovative farmer by the name of Mullens drove spikes into a V-shaped log, which his horse dragged along the plowed soil. The cultivator loosened the dirt and dropped the seeds in behind it. Iron plows didn't arrive until the 1850s.
A few years later, the Australian government paid Richard Bruyer Smith 500 pounds sterling for his invention of the "stump-jump" plow. Smith's plow went along as usual until it came to a stump or rock, at which point a hinge mechanism allowed the share and mould board to lift over the obstacle and come down on the other side.
Cooking and eating wheat
During the second half of the 1800s, English in Australia might well have turned to Eliza Acton's The English Bread Book for their bread recipes.
The English and other settlers adapted to their new environs. They used native species in English recipes, or occasionally they ate indigenous foods prepared in the same ways that the Aboriginals were accustomed to use them. Far more often than not, they substituted local foods for familiar ingredients. T
hey cooked parrots instead of pigeons into
soups, and prepared kangaroo meat as if it was beef or mutton.
Mrs. Lance Rawson's
Antipodean Cookbook
from 1895 gave recipes for flying fox (tastes like pork), bandicoots, and iguanas (tastes like chicken), but prepared them all using English techniques and seasonings.
Flying fox, Sydney Centennial Parklands, 2/10/2018 [TWC]
The indigenous peoples also adapted. They continued to prepare their traditional foods, but they also used English ingredients -- flour, sugar, the new meats such as mutton, beef, and pork -- to make their traditional dishes. More often, t
hey substituted English foods for their own.
The English foods tasted better to them, were far easier to get, and were recommended (or required) by the English who ruled over them. At times, the
English paid indigenous peopl
e who were working for them in English foods, including flour.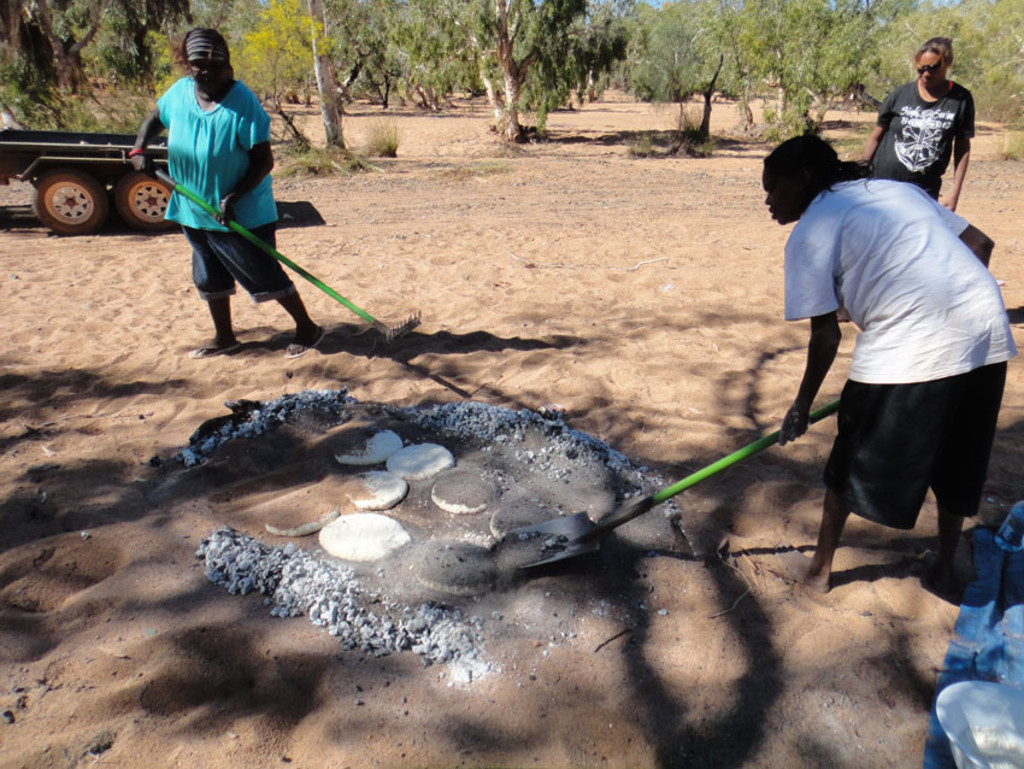 The English used their own ingredients in new ways in their new home. The flatbread called damper is one of the best examples. People have made flatbreads with wheat flour (and other flours or ground plants), water, and salt for thousands of years. They have cooked them buried in ashes or over hot coals for equally long times. The English in Australia brought hard tack with them, and created damper as an alternative. William Bond, a baker in Sydney's Pitt Street, gets credit for baking the bread in the oven's ashes,
"damping" them
around the dough.
A
1946 recipe
emphasized the kneading process for damper: "Take 1 lb of flour, water and a pinch of salt. Mix it into a stiff dough and knead for at least one hour, not continuously, but the longer it is kneaded the better the damper. Press with the hands into a flat cake and cook it in at least a foot of hot ashes" (Bill Beatty, in the
Sydney Morning Herald
). This differs substantially from hard tack or ship's biscuit, which is not kneaded, merely mixed until the dough holds together, then flattened very thin, and baked for a long time at a low temperature until it dries out completely.
The
Aboriginals claim damper as their own
as well. Before the English settled in, they made bread by grinding
Spinifex
seeds, mixing them with water, and baking the dough in ashes of a campfire. Some tribes used millet, kangaroo grass, and other seeds, including
Bunya nuts
prepared the same way. Today, as is shown in the next post, ground seeds and nuts are often mixed with wheat flour to take advantage of the fact to it has gluten and will rise when leavened. In a bit of reverse cultural appropriation, the English version of damper is sometimes credited to the Aboriginals, as in this snack characterized as
"Damper and Dip: An Aboriginal Tradition
."
A modern version of Aboriginal seed bread.
The next post describes wheat in Australia's present, from damper to ramen to Aussie pies. The first post in the series is
Who Invented Bread?
at this link.
* Th
is is the Wikipedia version, but it is also available in books.